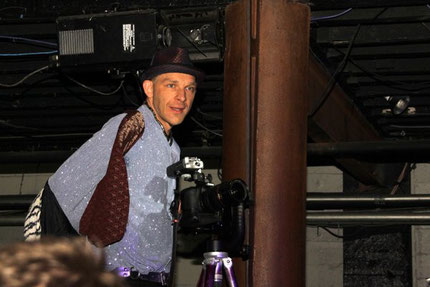 About
Find out more about Benoit's musical roots and early US community media days in  this recent article : www.radiosurvivor.com/2016/05/11/friendships-forged-community-radio/
Mister WA founder Benoit Lacasse's fascination with media in all its subtle layers drove his curious mind to learn languages early in life and understand Otherness on its own terms. His love for planetary culture and universal music further uprooted him from his bordertown in the international Belgian hub and drove him to the U.S for a cultural Master's degree, which he completed while immersing himself in community radio activities. It is as radio host of Bassism that he embraced the New World BenWA phonetics for his Chicago audiences'. Benoit then decided to merge even further with the people's culture he had been observing and embraced the video language as the ultimate global Esperanto. And thus MisterWA Productions were born.
Based in San Francisco since 2003 though his partnership with Streedmedia, a web-video production company originally focused on restaurant promotion, Benoit has worked closely with many production professionals, provided administrative and post-production support to seasoned media producer Vic Ferrer as well developed and managed turn-key studio The Producer's Loft, a preferred partner facility for productions requiring high-end sound-stage environments.  This past decade, Benoit's focus on developing professional video production skills has grown hand in hand with his dedication to creating video contents in service to performance Arts and progressive culture. While giving an original voice to the Bay Area and building cultural bridges through his consistent media documentation, Benoit has deeply connected with many Bay Area creative communities who he frequently  performs or collaborates with.
Benoit's love for grassroots culture combined with his mind for linguistics, production experience at all levels and attention to your objectives guarantees your story is told originally, skillfully and meets your audience, whichever the size of your budget and the scope of production.
Don't hesitate to call 415-420-9802 and let's discuss your communications needs TODAY !